Professor for Computational Linguistics
Sprechstunde nach Vereinbarung.
Computational Linguistics Research Colloquium
A calendar with the talks in the CL research seminar can be found here.
Collaborative Research Center 991
Since July 2015, I am coordinator ("Sprecherin") of CRC 991.
TAG+12
The 12th International Workshop on Tree Adjoining Grammars and Related Formalisms (TAG+12) will take place in Düsseldorf in June/July 2016.
ESSLLI 2013

The 25th European Summer School in Logic, Language and Information has taken place at the University of Düsseldorf on August 5-16, 2013.
Research Interests
Tree Adjoining Grammars, mildly context-sensitive grammar formalisms
Parsing of mildly context-sensitive grammar formalisms: symbolic and probabilistic approaches, data-driven parsing of discontinuous constituency structures
Syntax-Semantics Interface, Underspecification, Semantics of scope
Syntax-based statistical machine translation
Frame Semantics, decomposition into constructional and lexical meaning components, semantic composition with frames
Role and Reference Grammar
Textbook on Parsing TAG, MCFG/LCFRS and RCG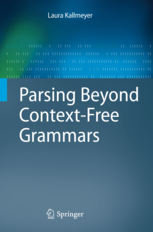 Laura Kallmeyer (2010): Parsing Beyond Context-Free Grammars. Springer.